One of our lucky Facebook followers has won a brand new Luggie lightweight mobility scooter in our super giveaway competition!
Edith was nice enough to let us video the delivery and demonstration of her brand new Luggie at her home. You can view our video on our facebook page by clicking https://www.facebook.com/Localmobilityleigh/
Want a chance to win one a portable, travel mobility scooter for yourself Then, simply LIKE our page and stay tuned, as we'll be sharing our next Super Giveaway Competition Very soon!
Want to see for yourself exactly why we are the world's best lightweight Mobility Scooter?
Then book a demonstration today! You can arrange for one of our friendly Luggie experts to come to you and have a demonstration in the comfort of your own home.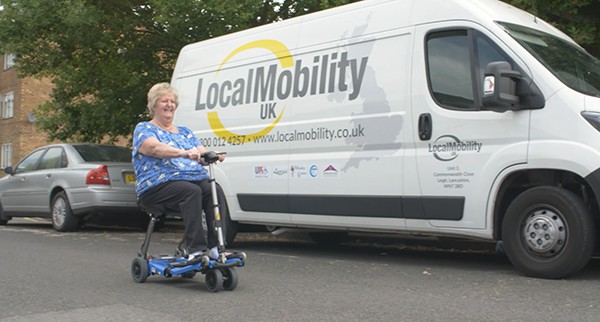 Which is the best mobility scooter for me?
Our home demonstration experts will help match a model of scooter that will support your disability and needs. And, its good to know that at any home demonstration there is no obligation to buy a Luggie Scooter. Our full model range consists of:
Luggie Standard Mobility Scooter
Luggie Elite Mobility Scooter
Luggie Eco Mobility Scooter
Luggie Super Mobility Scooter
The LuggieChair Mobility Scooter
You can view the full Luggie Mobility Scooter range on our website. Or, you can get an information pack containing details of the Luggie range of lightweight mobility scooters & accessories.
LIGHTWEIGHT MOBILITY SCOOTERS HOME DEMONSTRATIONS
When you request a home demonstration, we will call you to arrange a time and date that suits you. Plus, try to offer you an appointment within 2-3 days.
You will be given the name of the Luggies demonstrator and asked a few questions about you. we like to make sure we understand your requirements. You will also receive a courtesy call the day before just to reconfirm everything with you.
Simply call our friendly customer service team on 0800 012 4258. Or, fill in our online form.